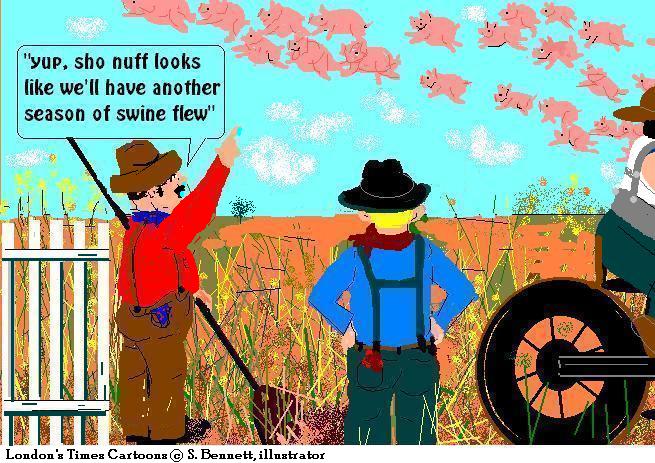 I'm sick, and the Swine Flu--er, the H1N1 virus--is the culprit. However, I'm not exhibiting the typical symptoms associated with influenza. My nose isn't running, I don't feel like crap, and I don't have a fever. In fact, the only symptom I have seems to be irritability.
Ok, that was really corny and I'm ashamed of writing it. But my point is that I'm tired of hearing about this disease and how bonkers people are going worrying about it. Yeah, I get it. It's a more virulent strain of flu. But I'm also pretty sure it's not the Black Plague. With any luck this will all blow over soon...but probably not before someone figures out a way to profit from it. Think "I survived the Swine Flu" t-shirts.
Now, I don't mean to diminish or make light of the seriousness of any illnesses or challenges people have to face. But our recent class discussion about how almost anything can be mined for writing purposes really has me wondering: when will we see the first Swine-Flu inspired book about some brave soul's harrowing struggle with this insidious virus, and how many more will follow? The Swine Flu has almost become a "fad" (bear with me) in the sense that it's inspired endless jokes and currently inhabits the short-term memory of popular culture.
Our current epidemic has a very SARS-like feel to it--unlike AIDS, which stuck around after its discovery and is now a daily fact of life for millions of people worldwide. Let's hope the Swine Flu turns out to be little more than a silly fad, and not something more serious and enduring.